Lebanon Guide

Lebanon has always been a special country. Despite the recent years of war, Lebanon's long history, natural beauty and spirit of its people give it a place in the hearts of all whom have been there. With its legendary hospitality, natural and touristic sites and its delicious food, it is indeed a unique place to visit.
Lebanon is located at the meeting point of three continents, and over the centuries, Lebanon has been the crossroads of many civilizations whose traces may still be seen today. Its countryside is a place of rocks, cedar trees and magnificent ruins that look down from the mountains to the sea.
It's Arabic name "Lubnan" means white; the color of the mountains. In winter the high peeks are covered with snow and in summer there line stone slopes glimmer white in the distance.
Two rocky ranges traverse Lebanon parallel to the sea coast, separated by the high plateau of the Beqaa valley. On the coast are five famous towns known to every archaeologist: Berythus (Beirut), Byblos, Sidon, Tripoli and Tyre; the names of Ancient Phoenicia.
Beirut
Beirut, the capital of Lebanon, with its million-plus inhabitants, conveys a sense of life and energy that is immediately apparent. This dynamism is echoed by the Capital's geographical position: a great promontory jutting into the blue sea with dramatic mountains rising behind it. A city with a venerable past, 5000 years ago Beirut was a prosperous town on the Canaanite and Phoenician coast.
Named Beroth, the city of wells, by the Phoenicians, it is one of the oldest settlements of man as evidenced by relics from prehistoric communities.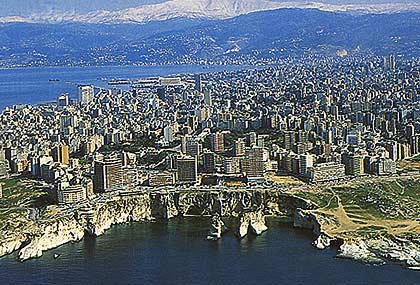 Beirut entered the most glorious period of its ancient history when was occupied by Romans under the command of Emperor Pompey in 64 BC.
In 15 BC it was named Colonia, Julia, Augusta, Felix, then Berythus and acquired the rights of a Roman city-state. What most contributed to its fame, however, was its School of Law which, under Septimus Severus (192-212 AD), excelled the schools of Constantinople and Athens and rivaled that of Rome. The school whose professors helped draft the famous Justinian Code.
A devastating earthquake in 551 AD destroyed Beirut. A century later it was conquered by the Muslim Arabs and in 1109 it fell to the Crusaders. The city remained in Crusader hands until 1291, when the Mamluks took it.
Beirut nowadays, remains the cultural and commercial center of Lebanon. Today the war-ruined city center is being reconstructed under a 25-year project envisages a new modern city that will also retain its familiar Oriental flavor.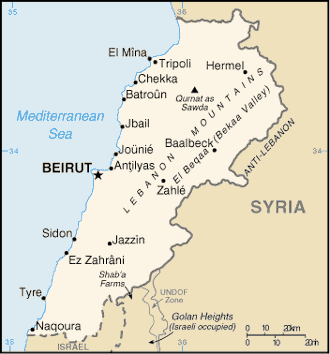 ---
---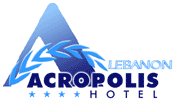 Acropolis Hotel Kaslik Street Jounieh, Lebanon - P.O Box 2585
Tel:+961-9-639739 Fax:+961-9-639400
e-mail : info@acropolishotel.com