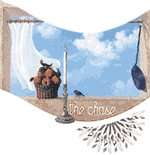 The Chase is now considered as one of the
rare success stories in the restaurant and
catering business in Lebanon. The Chase is born
in 1977 at Sassine Square in Achrafieh. Two
years later, the Chase opened a new premise in
Espace 2000 in Zouk. For the new millenium, a
new Chase is born in Raoucheh.
THE CHASE
Achrafieh
Tel : (961) 1 - 202390
Zouk Mikael
Tel : (961) 9 - 210883
Raouché
Tel : (961) 1 - 798500
Fax : (961) 9 - 221334