Bahrain Real Estate and Large Projects.
The first in the Gulf to discover oil, the Kingdom was also the first to think about a post-oil future.
Bahrain invested in people, creating the best education system in the region and a highly skilled workforce. The Kingdom invested in new economic sectors and in its infrastructure. In roads, in power, in water, in telecoms and in IT that will meet demands in 20 years' time, not just today.
Now Bahrain is investing in world-class projects. Across the island, major new developments are catching the imagination of Bahrainis and of the world.
Bahrain Real Estate
Bahrain Financial Harbour
A master-planned integrated financial community on prime seafront property in Manama, with a diverse range of commercial, residential and leisure components, Bahrain Financial Harbour has been designed to address every single need of the financial services sector. It will have 30 individual development units, spreading over 380,000mē of reclaimed land, offering office, residential, retail, dining and leisure space.
Cost: BD 565.4 million, US 1.5 billion
Size (square metre): 380,000
Location: Northern coastline
Investor: Gulf Finance House (GFH)
Type of Development: Commercial, residential and leisure
Completion Date: 2009
Tel: +973 17 576 000
Email: info@bfharbour.com

Website: http://www.bfharbour.com/
World Trade Centre
The Bahrain World Trade Centre is a symbol of achievement and a reflection of momentum behind the region's fast growing economy.
Its innovative design combines the essential elements of lifestyle and business to create a powerful emblem of aspiration and accomplishment. The Bahrain World Trade Centre is more than its landmark commercial towers; it also offers amenities such as an exceptional shopping and dining environment, a five star hotel and sophisticated office accommodation.
Cost: BHD 30 million US $ 9.6 million
Size (square metre): 120,961
Location: Northern coastline
Type of Development: Retail, accommodation, office space
Completion Date: - Q3 2007
Tel: +973 17 540 330
Email: info@bahrainwtc.com
Website: http://www.bahrainwtc.com/
Bahrain Bay
Bahrain Bay is a unique waterfront district that will serve as a new benchmark for Bahrain. A carefully conceived neighbourhood, Bahrain Bay will be home to the Kingdom's only Four Seasons Hotel and Arcapita's new corporate headquarters. With a passion and focus on creating a world-class, contemporary addition to the country, Bahrain Bay will raise the standards of residential, commercial and retail offerings to become an exciting new community on the waterfront.
Cost: BHD 560 million US $ 1.5 billion
Size (square metre): 1.1 million
Location: North East coast of Manama
Investor: Arcapita
Type of Development: Residential, retail and commercial
Completion Date: 2010
Tel: +973 17 505 555
Email: info@bahrainbay.com
Website: http://www.bahrainbay.com/
Amwaj Islands
Amwaj Islands is a wonderful new waterside development encompassing 30 million square feet of the Kingdom of Bahrain.
First conceived in 2001, and now nearing completion, Amwaj will be a modern, fully functional neighbourhood which already features a diverse range of high-rise apartments, lofts, studios and villas together with an island dedicated to learning and state-of-the-art communications and utilities.
Cost: BHD 380 million USD 1 billion
Size (square metre): 30 million
Location: Muharraq
Investor: Ossis Property Developers
Type of Development: Commercial, residential, leisure, hotels & tourism
Completion Date: Aug 2007
Tel: +973 16 033 100
Email: info@amwaj-islands.com
Website: http://www.amwaj-islands.com/
Reef Island
Reef Island, at the heart of Manama, is one of the pioneering real estate development projects in Bahrain. This man made island is conceived and styled along a fusion of contemporary designs following traditional patterns.
Reef Island is being developed by the Lulu Tourism Company, which was established in March 2002 as a result of a joint venture between the Government of Bahrain and the Mouawad Group Inc. It includes 39 residential buildings with a total of 1217 apartments, a residential Icon Tower, 49 stylish chalets, and 67 luxurious individual villas all overlooking private lagoons. It will also have its own private Marina & Yacht Club, Spa Village, an aquarium, a medical centre, shopping mall and a multi-function exhibition centre, as well as a five star 300-room hotel with 42 serviced apartments, restaurants, gym and shopping arcades.
Cost: BHD 280 million USD $740 million
Size (square metre): 563,000
Location: City centre
Investor: Bahrain Government & Mouawad Group Inc
Type of Development: Leisure, business
Completion Date: 1st phase - early 2009; 2nd phase - end 2010
Tel: +973 17 562 814
Email: inquiries@reefisland.com
Website: http://www.reef-island.com/
Durrat Al Bahrain
Durrat Al Bahrain is named after the most perfect pearl and sets out to be a model city resort of life as it should be in the 21st century. The character and design of Durrat Al Bahrain reflects the highest quality of design principles and will set a new standard for urban development in the Kingdom.
This 20 square kilometre seaside city resort, located on the south coast of Bahrain, will include 13 different islands with over 2,000 villas, more than 3,000 apartments, luxury hotels, restaurants, promenades, shopping centres, spas, a planned marina, and a proposed golf course among its many sports facilities.
Cost: BHD 1.13 billion USD $3 billion
Size (square metre): 20 million
Location: Southern tip of the island
Investor: Bahrain Government & Kuwait Finance House (KFH)
Type of Development: Residential, commercial, leisure & tourist
Completion Date: 2009
Website: http://www.durratbahrain.com/
Riffa Views
The first of its kind in Bahrain, Riffa Views is an exceptional master-planned community. Featuring 900 top quality designed and built homes, woven around a new PGA championship golf course, it also offers a wealth of activities, from golf to walking and jogging trails.
The development laces three neighbourhood clusters together with extensive landscaping that combines arid desert scenes with emerald parklands and lagoons, while almost all of its homes enjoy open views of the golf fairways.
Cost: BHD 113 million USD $ 300 million
Size (square metre): 7 million
Location: Riffa
Investor: Arcapita, Bahrain International Golf Course Company (BIGCC)
Type of Development: Residential, leisure
Completion Date: 2008
Tel: +973 17 757 999
Email: info@riffaviews.com
Website: http://www.riffaviews.com/
Marina West
Marina West is Bahrain's first beachfront residential and lifestyle community to be set in the tranquil and idyllic surroundings of the Kingdom's west coast. The development will comprise 11 residential towers that will encircle a 75,000 square-metre gated community. It will boast a fully comprehensive range of lifestyle and leisure facilities and more than 1,280 luxurious 1, 2, 3 and 4 bedroom apartments, duplexes, simplexes, penthouse suites and townhouses.
High quality retail, leisure and lifestyle attractions will include a 130-metre long stretch of private beach, marina, boat jetty mooring facilities, a spa and health club, children's playground, cafes and restaurants, supermarket and medical centre.
Cost: USD $319 million; BHD 120.2 million
Size (square metre): 345,000
Location: West coast - Budaiya
Investor: AAJ Holdings
Type of Development: Residential, retail, leisure
Tel: +973 17 690 808
Email: info@marina-west.com
Website: http://www.marina-west.com/
Abraj Al Lulu
Located in the Seef District of Manama, Abraj Al Lulu (Lulu Towers) is a freehold apartment development. It has two 50-storey towers and one 40-storey tower packed with all the amenities you could possibly want and close to every-thing you need.
Between them the three towers house over 860 one, two, three and four-bedroom apartments, 12 Villas in the Sky and a full complement of sports and recreational facilities. Outdoor facilities range from exclusive tennis and basketball courts to an open air pool, terraces, landscaped play area, rock garden and waterfalls as well as health and fitness centres and a generous allocation of space for parking.
Cost: BD100 million
Size (square metre): 186,000
Location: Manama
Investor: Pearl Development and Real Estate Company (PDREC)
Type of Development: Residential, leisure
Completion Date: 2008
Tel: +973 17 587 575
Email: info@abrajallulu.com
Website: http://www.abrajallulu.com/
Leisure, tourism and retail

Bahrain International Circuit
The Bahrain International Circuit is one of the world's premier motorsport facilities. Its multifaceted facility includes many hospitality lounges that are designed to hold a wide selection of corporate and social entertainment.
The striking Sakhir Tower, now an iconic landmark, encompasses some of the most beautiful lounges and the most amazing views in the Kingdom. With its prime location, the tower gives spectators a bird's eye view of the entire circuit. The executive boxes, which are located directly on top of the main grand stand, give an incomparable view of the Formula One pits and the paddock club.
Cost: USD $ 150 million BHD 56.2 million
Location: Sakhir
Investor: Government of Bahrain
Type of Development: racing circuit
Completion Date: completed
Tel: +973 17 450 000
Email: info@bic.com.bh
Website: http://www.bahraingp.com.bh/
Al Areen Resort & Spa
The unique Al Areen development is adjacent to the Bahrain International Circuit and the Al Areen Wildlife Sanctuary. It offers an opportunity to experience the legacy of the country's rich and varied history, while maintaining the comfort and convenience of modern living.
The mission of the development project is to transform its distinctive desert location area into a diversified range of health, residential, hospitality and entertainment components. Major components of the development include: the Banyan Tree Desert Spa and Resort - the only all-villa private pool resort in the Arabian Gulf and one of the Middle East's most luxurious hideaways; 'The Lost Paradise of Dilmun' Water Park; Hotel Al Areen; Al Waha Resort; Oryx Hills; Downtown Al Areen; Sarab Al Areen; and a number of residential villages, entertainment and recreational facilities.
Cost: BHD 280 million US $ 750 million
Size (square metre): 2 million
Location: Sakhir
Investor: Gulf Finance House (GFH)
Type of Development: Commercial, residential, retail, recreation, health & medical
Completion Date: 2008
Tel: +973 17 838 666
Email: info@alareenresort.com
Website: http://www.alareenresort.com/
Bahrain City Centre
Located in the heart of Manama on Sheikh Khalifa Bin Salman Road, Bahrain City Centre will be the largest leisure and shopping mall in the Kingdom.
At 140,000 square metres and with provision for over 300 stores, Bahrain City Centre will offer two multi-level international department stores, the largest indoor water park in the region, a 5,000 square metre Magic Planet and the largest cinema in the Middle East - with 20-screens. The three-level shopping and leisure centre will have over 350 stores in total, offering the best in fashion and entertainment choices including a 16,600 square meter Carrefour hypermarket - the first in Bahrain. It will also be home to many international and exclusive brands such as SAKS 5th Avenue, H&M, Aizone, Debenhams, Centre Point, Home Centre, Paris Gallery, Zara, Mango, Massimo Dutti, and other leading fashion brands.
Bahrain City Centre will also incorporate two international hotels with a total of 700 rooms combined offering 5-star amenities.
Cost: USD $ 531 million
Size (square metre): 140,000
Location: Al Seef District, Manama
Investor: Majid Al Futaim Group
Type of Development: Commercial, retail, leisure
Completion Date: 2008
Tel: +971 4 409 9212
Website: http://www.majidalfuttaim.com/
Al Jazair Beach
The Al Jazair beach project involves the creation of a world-class leisure and family tourism facility for the public. The development will be located in the area adjoining the Al Jazair beach in the South-West of Bahrain. Destined to become one of Bahrain's finest entertainment beachfronts, Al Jazair Beach will include a boardwalk, restaurants, and other family recreation and entertainment facilities that will transform the existing public beach into a major tourist attraction for people of all ages.
The project, estimated at a cost of US $800 million, is an Ithmaar Bank initiative and will be implemented in partnership with the Economic Development Board (EDB).
Cost: BHD 800 million
Location: South-West coast of Bahrain
Investor: Ithmaar Bank, in cooperation with EDB
Type of Development: Tourism, leisure
Infrastructure
Shaikh Khalifa Bin Salman Port
Bahrain's new Sheikh Khalifa Bin Salman Port in Hidd will replace the Mina Salman Port as the Kingdom's leading port, and will serve as a major drop site for incoming cargo to the Gulf region. The new port is expected to begin operations by the end of 2008.
The port has been designed with efficiency in mind and will cover an area of 900,000 square metres, though that figure could grow. The port also boasts an 18-meter deep berth, able to accommodate the world's largest container vessels.
With its proximity to the airport and the Hidd industrial area, as well as the easy access to Saudi Arabia via the King Fahd Causeway, the new port is well-placed to make Bahrain a major shipping hub and a gateway to other parts of the Gulf.
Size (square metre): 1,800 metre quay wall, 15m depth
Location: Hidd
Investor: Bahrain Government
Type of Development: Sea port and logistics zone
Completion Date: 2008
Bahrain International Airport
Bahrain International Airport is a key hub airport in the region, providing a gateway to the Northern Gulf. Gulf Air provides 52% of the airport's overall movements and operates 377 weekly international services. Thirty-five other international airlines including British Airways, Cathay Pacific, KLM and Lufthansa operate a total of 349 services per week to a total of 52 destinations.
The airport terminal includes two new high tech lounges (completed in 2005), equipped with the latest wi-fi technology permitting free internet access. The new arrivals immigration facilities and streamlined processing now enable large numbers of visitors to be handled without delay or congestion. Top quality duty free shopping is available both on arrival and in the award-winning shopping mall in the departure lounge.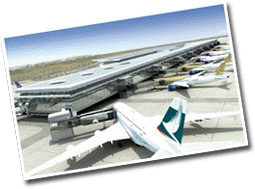 Future plans include a major US$ 350m expansion of the terminal building to the east to provide eight additional air bridges and more aircraft parking stands, raising the airport capacity initially to 15 million per annum by 2015, with provision for a second phase expansion increasing capacity to 22 million by 2020.
Cost: USD$ 350 million (for expansion of terminal building)
Location: Muharraq
Investor: Bahrain Government
Type of Development: Logistics, Infrastructure
Completion Date: 2015 for first phase
Tel: +973 17 321 095
Email: marketing@caa.gov.bh
Website: http://www.bahrainairport.com/
Bahrain-Qatar Causeway
In 2006, a deal was signed between Bahrain and Qatar to construct the 'Friendship Causeway' - a 40 km-long, double-lane bridge connecting the two Gulf nations. When finished, it will be the longest fixed link causeway in the world.
The causeway will spark a new era of cooperation and friendship through improved economic activity and increased tourism between Bahrain and Qatar. Feasibility studies are complete and approved with construction expected to last five years.
The causeway will start near Manama and make its way along Bahrain's eastern coast out over Gulf waters and ending at Ras Ashiraj, Qatar. It will be a natural extension of the King Fahd Causeway that connects Bahrain and Saudi Arabia, thus linking the entire region.
The Friendship Causeway is part of a broad initiative of infrastructure improvements being planned and commissioned by the Bahraini government to solidify the Kingdom's place as the 'Gateway to the Gulf'.
Cost: USD $3 billion
Size: 40 km long
Location: East coast of Bahrain and West coast of Qatar
Investor: Bahrain and Qatar governments
Type of Development: Logistics, infrastructure
Completion Date: 2012
Northern City
The massive Northern City development is currently being constructed on the north coast of the Kingdom. Land reclamation work began in 2006. The two-phase development will provide 18,000 housing units, with associated infrastructure such as schools, health centres, etc, catering for 75,000 citizens. The estimated cost is BHD 1 billion.
Cost: BHD1 billion
Size (square metres): 1.65 million
Location: Northern coast
Investor: Bahrain Government
Type of Development: Residential
Business and industry

Bahrain International Investment Park
The Bahrain International Investment Park provides a unique opportunity for businesses looking to invest in manufacturing and international services in the Middle East. The park offers unique incentives for those looking for an overseas investment opportunity, including: 100% foreign ownership of companies; 0% tax with a ten-year guarantee; special customs services; no recruitment restrictions; and dedicated assistance with all corporate and human resource formalities.
Quality facilities, offices and factory units are offered with long leases and competitive land rentals in an environment that is professionally zoned, landscaped and managed.
Size (square metre): 2.5 million
Location: Hidd
Investor: Bahrain Government & Ministry of Industry & Commerce
Type of Development: Industrial
Completion Date: Completed
Tel: +973 17 467 373
Email: admin@biip.com.bh

Website: http://www.biip.com.bh/
Bahrain Investment Wharf
In January 2006, Tameer set about establishing Bahrain Investment Wharf (BIW), putting the Kingdom of Bahrain on the map as a destination for investors and their business needs. It will have dedicated zones, including an industrial park (logistics and warehousing), an accommodation park, a business park, plus areas for associated services.
BIW is set to help create job opportunities within Bahrain and inject immense capital into the local economy, while attracting foreign investment, and enhancing Bahrain's reputation on the world stage. BIW also aims to create opportunities in supporting services and industries such as finance, tourism, construction, trade, health and education.
Size (square metre): 1.7 million
Location: Hidd
Investor: Tameer
Type of Development: Industrial, residential, business
Tel: +973 17 468 500
Email: info@bahiw.com

Website: http://www.bahiw.com/