Family Activities in Bahrain.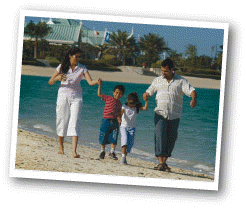 It might get a bit too steamy in the summer to visit the beach, but for nine months of the year the weather is perfect for outdoor activities. And, with everything so close at hand, even the overworked executive can do a 12-hour day in the office, and still be back in time to read the kids a bedtime story.
Variety is the name of the game when it comes to activities for the kids. Whether it be horse-riding or jet-skiing, indoor roller coasters or ice-skating, swimming or sailing, or soft play areas for the tots, Bahrain has it all. There are also many family-oriented clubs which offer a range of facilities and provide a host of activities for all the family.
Wherever you decide to go, you'll be assured of a warm welcome, and the opportunity of meeting new people and making many new friends. Bahrain is a place where you don't remain a stranger for long.
Listed below are just some of the activities on offer for children and families.
Activity centers/parks
Chaka Zulu
Dana Mall
Tel: +973 17 558 500
An indoor amusement park, including a roller coaster, dodgems, small boat rides, and motion cinema.
Foton World
Bahrain Mall
Tel: +973 17 556 112
Indoor entertainment area, with a range of rides and games.
Fun land Centre
Al Fateh Corniche
Tel: +973 17 292 313
Bowling and ice-skating.
Gulf Speed One
Seef District
Tel: +973 3944 4137
Go Kart track.
Kids' Kingdom
Corniche, near Marina Club
Tel: +973 17 227 476
Outdoor playground with rides and play equipment.
Kids Play
Inside Toys 'R' Us, Seef District
Tel: +973 17582 188
Supervised play area suitable for younger children.
Magic Island
Seef Mall
Tel: +973 17 582 888
Indoor amusement park, including rollerblade rink, roller coaster, motion theatre and Chamber of Horrors.
Playland
Fuddruckers restaurant, Adliya
Tel: +973 17 742 266
Indoor centre with games and rides for kids.
Rally Town
Nr Shaikh Isa Bin Salman Highway
Tel: +973 17 612 992
Go Kart racing for all ages.
Silver Go-Karts
Tel: +973 17 780 011
Go Kart racing and kids' rides.
Soft Play
Dilmun Club, Saar
Tel: +973 17 690 926
As the name suggests, lots of soft play equipment for younger children.
Family clubs
Bahrain Rugby Club
Saar
www.bahrainrfc.com
Bahrain Yacht Club & Marina
Sitra
www.bahrainyachtclub.com
BAPCO Club
Awali
www.bapco.com.bh
The British Club
Adliya
www.britishclubbahrain.com
The Country Club
Jannusan
www.countryclubbahrain.com
The Dilmun Club
Saar
www.dilmun-club.com
The Ritz-Calton Bahrain Sports Club & Spa
Seef District
www.ritzcarlton.com/en/Properties/Bahrain
Family activities
Al Areen Wildlife Park and Reserve
Al Areen
Tel: +973 17 631 826
Dolphin watching
Bahrain Yacht Club, Sitra
www.bahrainyachtclub.com.bh
Bahrain Yacht Club
Sitra
www.bahrainyachtclub.com.bh
Sailing, windsurfing, scuba diving and snorkelling.
Bahrain Sailing School
Juffair
Tel: +973 17 310 252
Awali Riding Club
Barbar
Tel: +973 17 756 770
The Country Club
Jannusan
www.countryclubbahrain.com
The Dilmun Club
Saar
www.dilmun-club.com
Twin Palms Riding School
Saar
Tel: +973 3956 6809